About Space Design
Space Design Inc., the operator of Serviced Apartment brands BUREAU, B-SITE and B:CONTE, has created a turn-key approach to leasing the perfect executive serviced apartment in Tokyo and Yokohama. As one of the first Japanese companies to enter this market, Space Design spent the last 10 years observing how the visiting business and technical professional lives, their priorities and the requirements they have for success in this interesting and unique market. Opening up lease opportunities to individual visitors, streamlining the in-house review processes, adopting a virtual method of immediate support, demanding transparent and forthright pricing, and offering various payment methods are just a few of the ways Space Design aims to keep up with the volatile needs of the international traveler.
With a Hotel Apartment in Asakusa (B:CONTE Asakusa), the only serviced apartment building with a Japanese Bath/Sauna facility on its top floor (BUREAU Shinagawa), multi-lingual service support, 24-hour toll free Information hotline, flexible pre-check-in cancellation policy, the easiest system for accessing buildings from airports and train stations, high speed internet access, direct phone lines and large work desk/tables in each apartment, etc., Space Design is the preferred choice among business and pleasure travelers here in Japan for one month or more.
Guests at Space Design buildings can enjoy all the comforts of home, friendly yet unobtrusive service, convenient locations and transparency in cost and lease conditions.
With a four F policy of Fast, Friendly, Fair and Flexible, Space Design is setting the bar for the new, easy and user friendly serviced apartment systems in Japan.
About BUREAU Premium Class Service Apartment
BUREAU is our premium class serviced apartments series. We understand that living in Tokyo for a month or more can be a challenging experience for even the most savvy global business executive. More than just a place to sleep, work, and relax, BUREAU provides a welcoming home-away-from-home via our friendly, multi-lingual service support. The perfect alternative to extended hotel stays, experience the comfort of a BUREAU serviced apartment.
About B-SITE Business Class Service Apartment
B-SITE is our business class serviced apartment series. We support the international business traveler who is in need of home-away-from-home in Japan. Come home to your own private and comfortable living space featuring designer furniture, large work desks, high-speed Internet access, full kitchens, and friendly bilingual hotline service support (virtual concierge). The perfect alternative to extended business hotel or hotel apartment stays. 8 locations in central Tokyo and Yokohama.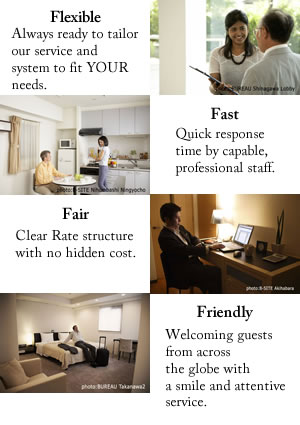 Recommendation Properties of Space Design